First things first, I should have pimped this AGES ago, because I'm very excited about it:

trekreversebang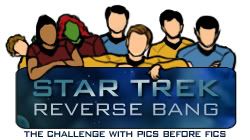 ileliberte
is running a pretty skookum challenge where authors write 6,000(+) word stories based on art (rather than how a regular big bang works).
I've done this before, and it's a lot of fun, and I'm totally signing up for some Uhura action. -bounces with glee-
On several "Oh... Marvel" points we have.
New Avengers: Luke Cage
. You only have the read the
Cage
MAX Limited Series of Awfulness to knew why I feel nervous about this one (Helpful hint: don't actually read that comic). Don't get me wrong, I love Luke to itty bitty pieces (which is why it's good that he has unbreakable skin), and I really want him to get time in his own title, but this worries me. I know you can't go by covers, but the Scary Black Man on this one is not an auspicious start. Nor is this:
"You can't very well have Thor get down and dirty in the streets, right? And it's not just that Thor's too strong, but that kind of low-level involvement is not in his DNA," [writer John Arcudi] states. "Readers wouldn't buy it, whereas Luke started in Harlem, started as a crook, then a local problem-solver. So on the one hand, you have the ever-present theme of redemption-and in this story's case, redeemer-in Luke's life, and on the other hand, you've got a bad-ass who's more than capable of playing hardball with the heavier hitters in the Marvel U. It makes him unique, and fun to write."
While I will grant that Luke start out in a gang when he was a young teen, that wasn't really what his story was about. He had already "redeemed" himself
before
he went to jail. He was the Innocent Man, always trying to make things right under a system that seemed irrevocably stacked against him.
Aside: I've
talked about
the first
Cage
series, and how Danny's death hit him, but I think an even greater impact came from having the rug pulled out from under him that hard. One minute, he's a respected hero who's spent
years
building his reputation on the street, among his peers, and with local authorities. He had a job, a home and friends. The next minute, and, one incredibly obvious frame up later, he had nothing: all torn away. Again. No wonder he was pissed off.
Maybe I'm misunderstanding what Arcudi means by "redemption." Who knows.
So, the Year of the Woman is apparently kicking of in April (which, perhaps, explains the
complete lack
of women in Siege). So far, we have
Girl Comics
(I'm just going to let that one speak for itself),
Black Widow
(does the dance of OMG! YAY!), and
Marvel Her-Oes
(by a woman, which is good, and I'm generally in favour of High School AUs, but a couple of things make my hackles rise, one of which being that it's a pretty white title, another of which
is
the title).
With the exception of
Widow
, I feel segregated. Marvel promoting women creating and staring in comics is all to the good, but I kind of feel that we're being shoved in a ghetto here. Want to promote women, fine: Revoke the cancellation of
Ms Marvel
. Restart
Daughters of the Dragon
. Give me Carol or Monica leading the Avengers again. Hell, let's have the adventures of Bobbi leading the WCA. Give me Jan, Jen, Jean, and Wanda back. Either let someone else write
Captain America
, or take Sharon Carter out of that title (though OMG! YAY for Rikki getting her own second feature).